Live Culture Burrata di Bufala 100 g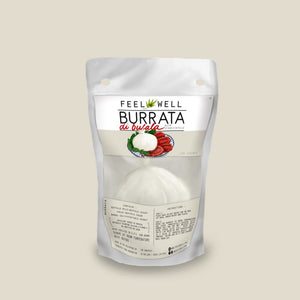 Handcrafted fresh and creamy cheese, Burrata di Bufala aka fresh mozzarella with a center of cream & stracciatella. An excellent source of Protein, naturally- occurring Calcium, and Vitamin A.
WHAT'S IN IT: 
— Casein A2 buffalo milk
— Buffalo yogurt
— Fresh buffalo cream
— Bambu salt
— Vegetable rennet
NO ADDITIVES. NO REFINED SUGAR
HOW TO PREPARE:
Straight from the refrigerator, open the burrata package and place its content including the liquid in a glass jar, then place the glass jar in a bowl of warm water to gently warm the burrata, allowing its milky buttery flavor to bloom and restoring its delicate creamy texture before serving.
*Use the liquid whey in the bag for your pets or plants to drink, adding it to their water, enriching it with excellent high protein.
ENJOY IT:
-Serve sprinkled with Bambu salt and drizzled with extra-virgin olive oil, spread on good Whey Better Almond Bread or sourdough bread, or with fruit like melon, strawberries, apples, pears.
*Store at 2° - 4°C temperature. Product shelf life is up to 5 days.