Synbiotic Chicken Soup 400 ml: Ginger + Carrot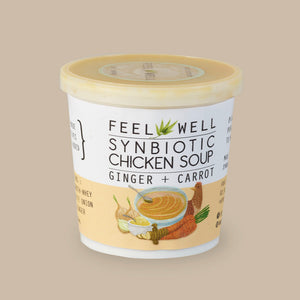 "A soup like this is not the work of one man. It is the result of a constantly refined tradition. There are nearly a thousand years of history in this soup."

A delicious and nutritious concoction.

WHAT'S IN IT:
-The strong base of our Chicken Broth to give you strength and heal your gut.

-Sweet hints of carrots rich in dietary fiber, lutein, and zeaxanthin, good for the eyes.

-Zing and flavonoids of ginger, reducing inflammation and muscle soreness.

-Ghee loaded with butyric acid to strengthen the intestinal walls and convert food into nutrients.

BEST FOR: Chronic diseases like diabetes, liver problems, hypertension, cancer, heart disease, hypertension, etc.

FOLLOW THIS: Take the soup for 3 months. Have 1-2 cups every night with a spoonful of plain yogurt. You should see a difference in a month.

IMPORTANT NOTE: One of FEEL WELL's key elements is its all-natural goodness. Store in 2° - 4°C temperature. Product shelf life is up to 14 days. Product can be frozen up to 5 months. If frozen, thaw in refrigerator overnight before consuming.