Synbiotic Chicken Soup 400 ml: Onion + Chicken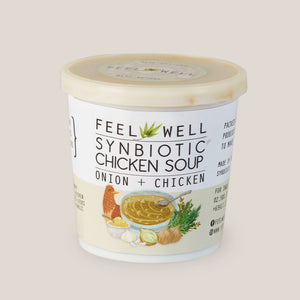 "A soup like this is not the work of one man. It is the result of a constantly refined tradition. There are nearly a thousand years of history in this soup."

An invigorating soup.

WHAT'S IN IT:
-The strong base of our Chicken Broth to enhance your energy and heal your gut, liberally sprinkled with shredded chicken

-Whey, the all-around protein containing all the essential amino acids for building and maintaining muscles

-White onions, Shallots, and Leeks of the Allium family. All are rich sources of Vitamin C, flavonoids, and phytonutrients (flavonoids like the Quercetin in onions, may help reduce the risk of Parkinson's disease, cardiovascular disease, and stroke while the phytonutrients in onions have antimicrobial and anticancer properties)

-Garlic that has active compounds that lower blood pressure and LDL (bad) cholesterol levels

-Ghee to strengthen the gut while imparting its own caramel flavor notes

BEST FOR: Chronic diseases like diabetes, liver problems, hypertension, cancer, heart disease, hypertension, etc.

FOLLOW THIS: Take the soup for 3 months. Have 1-2 cups every night with a spoonful of plain yogurt. You should see a difference in a month.

IMPORTANT NOTE: One of FEEL WELL's key elements is its all-natural goodness. Store in 2° - 4°C temperature. Product shelf life is up to 14 days. Product can be frozen up to 5 months. If frozen, thaw in refrigerator overnight before consuming.