Live Culture Bufala Kefir Cheese 400 g : Herbs and Spices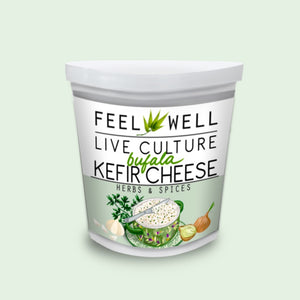 This is our Kefir Cheese jazzed up with the buzz of garlic and basil.
WHAT'S IN IT:
Live Culture Kefir Cheese

Garlic 

Basil
NO ADDITIVES. NO REFINED SUGAR 
ENJOY IT:
Enjoy this: Drizzle good quality antioxidant-rich extra virgin olive oil (EVOO) on Feelwell Kefir Cheese with Herbs & Spices. Add fresh herbs like chopped mint, parsley, or chives for extra flavor. To create a creamy salad dressing, mix our Kefir Cheese with a bit of extra virgin olive oil, and squirts of fresh lemon juice to create a creamy salad dressing. It's great on green salads or as a sauce for pasta salads. Use it as a creamy spread in sandwiches or wraps. It pairs well with grilled vegetables, roasted meats, or falafel.
*Store at 2° - 4°C temperature.
Instructions to thaw kefir cheese:
If in no rush, put the frozen  kefir cheese in lower shelf of refrigerator and allow to thaw overnight. If to be consumed sooner, thaw out at room temperature. Once no ice crystals remain in the  kefir cheese, stir the product thoroughly. Then place in chiller or refrigerator at 2-4 deg C. It will revert to its original texture and the taste will not be affected.