Live Culture Bufala Kefir Cheese 400 g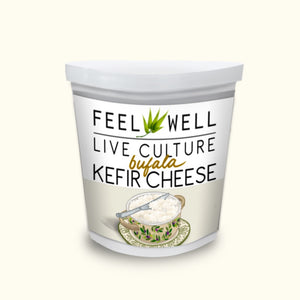 Our Kefir cheese is soft, creamy, and slightly tart consisting of curd. It is a versatile, simple cheese that can be used in all sorts of different ways.
WHAT'S IN IT:
Casein A2 Buffalo Milk

Kefir culture

Bambu salt
NO ADDITIVES. NO REFINED SUGAR
ENJOY IT:
Spread it on sourdough bread or Whey Better Almond Bread. It pairs well with both sweet and savory toppings. Serve it as a dip for fresh vegetables like cucumber slices, carrot sticks, bell pepper strips, or cherry tomatoes. The creamy texture of the cheese complements the crispness of the veggies. For a sweet twist, spread kefir cheese on a plate, and top it with fresh fruits such as berries, figs, or sliced peaches – Drizzle with honey for added sweetness. Serve kefir cheese as a dip for warm pita bread, naan, or other flatbreads. It's a popular way to enjoy it in Middle Eastern cuisine.  You may also blend kefir cheese into your morning smoothie for added creaminess and probiotics.
Remember that kefir cheese has a tangy flavor, so you can adjust its use according to your taste preferences. Whether you enjoy it as a savory spread, a dip, or a sweet treat, kefir cheese is a versatile and nutritious addition to your diet due to its probiotic content and rich creaminess.
*Store at 2° - 4°C temperature. 
Instructions to thaw kefir cheese:
If in no rush, put the frozen  kefir cheese in lower shelf of refrigerator and allow to thaw overnight. If to be consumed sooner, thaw out at room temperature. Once no ice crystals remain in the  kefir cheese, stir the product thoroughly. Then place in chiller or refrigerator at 2-4 deg C. It will revert to its original texture and the taste will not be affected.