Live Culture Cream Cheese Dressing 400 ml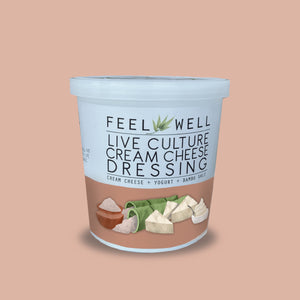 WHAT'S IN IT:
--Water buffalo milk, full-fat casein A2 yogurt
--Live cultures
--Bambu organic roasted sea salt

NEED TO KNOW: Water buffalo milk is 40% less cholesterol, 40% more protein, and 58% more calcium than cow's milk. It's high in antioxidant tocopherol.

ENJOY IT: Fruit salad dressing, parfaits, and sauces. Mix well before use.

IMPORTANT NOTE: One of FEEL WELL's key elements is its all-natural goodness. Store in 2° - 4°C temperature. Product shelf life is up to 21 days. Product can be frozen up to 3 months. If frozen, thaw in refrigerator overnight before consuming.
Nutrition Facts
Serving Size: 100g
Servings Per Container: 4

Amount Per Serving

Calories: 231

Fat calories: 198

% RENI ** 9 %

Amount Per Serving
%Daily Value
Total Fat
22 g
34 %
Saturated Fat
7 g
35 %
Trans Fat
0 g
Cholesterol
26 mg
9 %
Sodium
176 mg
7 %
Potassium
101 mg
2 %
Total Carbohydrate
1.3 g
0.4 %
Dietary Fiber
0 g
0 %
Sugar
1 g
Protein
7 g
10 %
* Percent Daily Values are based on a 2,000 calorie diet.

**%RENI are based on 2015 RENI PDRI reference adult requirement of 19-29 years old