Kefir Milk 240 ml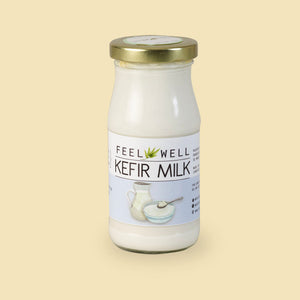 Kefir milk is made of casein A2 buffalo milk which is closest to mothers milk and live kefir culture.

WHAT'S IN IT:
- L. Lactis

- L. Cremoris

- L. Diacetylactis

- L. Acidophilus

- Lactic yeasts

- Buffalo full fat whole milk

BEST FOR:
Digestion and healing the gut, especially for individuals with irritable bowel syndrome (IBS)

IMPORTANT NOTE: One of FEEL WELL's key elements is its all-natural goodness. Store in 2° - 4°C temperature. Product shelf life is up to 21 days.