Keystone Probiotic Greek Yogurt: 400g L. Reuteri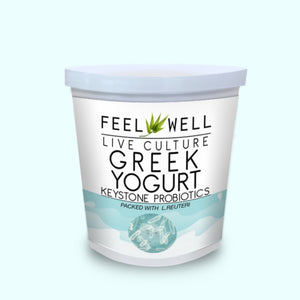 L. Reuteri has proven benefits for lowering cholesterol levels, reducing H. pylori levels (contributory to ulcers), improving female urinary tract and vaginal health, and promoting infant gastrointestinal health.
Enjoy our Keystone Greek Yogurt just as you would our Live Culture Greek Yogurt.
IMPORTANT NOTE: One of FEEL WELL's key elements is its all-natural goodness. Store in 2° - 4°C temperature. Product shelf life is up to 21 days.