Live Culture Greek Yogurt 400 ml: Plain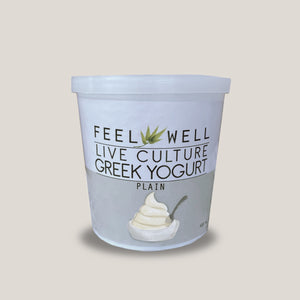 Thick, creamy, silky-textured, smooth, and rich on the tongue. Pure yogurt with only three ingredients: water buffalo milk fermented with live active bacterial cultures and a pinch of Bambu Salt. It has a slight bite and tang unmitigated by any sweetening agent, making it the epitome of good, clean food, the quintessential probiotic and the reason for the longevity of people in the Caucasus of Eastern Europe. Greek yogurt has much higher protein content than regular yogurt (sometimes nearly twice as much). In addition, it supplies the body with good, clean animal fat which is needed to nourish our cells daily for growth!

NO ADDED REFINED SUGAR.

ENJOY IT:
Eating on its own for those who savor pure yogurt. Take it with our Chicken Broth to heal a leaky gut. Mix it into smoothies. It's also a lower-calorie alternative to sour cream in tacos, baked potatoes, and beef stroganoff. You can also use it to make a salad dressing.

"Studies show that people who eat the most full-fat dairy have a lower risk of obesity and Type 2 Diabetes." -Healthline

IMPORTANT NOTE: One of FEEL WELL's key elements is its all-natural goodness. Store in 2° - 4°C temperature. Product shelf life is up to 21 days and can be frozen up to 3 months.
Instructions to thaw frozen yogurt:
If in no rush, put the frozen yogurt in lower shelf of refrigerator and allow to thaw overnight. If to be consumed sooner, thaw out at room temperature. Once no ice crystals remain on the yogurt, stir the product thoroughly. Then place in chiller or refrigerator at 2-4 deg C. It will revert to its original texture and the taste will not be affected.
Nutrition Facts
Serving Size: 100 g
Servings Per Container: 4

Amount Per Serving Calories: 165

Fat Calories: 136

RENI** 7 %

Amount Per Serving
%Daily Value
Total Fat
15 g
23 %
Saturated Fat
11 g
56 %
Trans Fat
0 g
Cholesterol
24 mg
8 %
Sodium
40 mg
2 %
Potassium
101 mg
2 %
Total Carbohydrate
.8 g
0 %
Dietary Fiber
0 g
0 %
Sugar
0.2 g
Protein
6 g
9 %
* Percent Daily Values are based on a 2,000 calorie diet.
**%RENI are based on 2015 RENI PDRI reference adult requirement of 19-29 years old