Raw Buffalo Milk 240 ml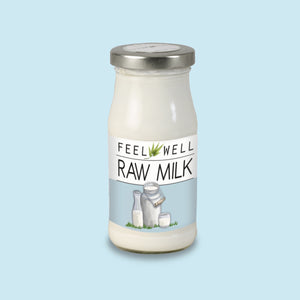 Buffalo raw milk is casein A2 milk which is closest to mothers milk.
It doesn't cause inflammation unlike casein A1, which doctors warn against. 


BEST FOR:
Digestion and healing the gut, especially for individuals with irritable bowel syndrome (IBS)

IMPORTANT NOTE: Store in 2° - 4°C temperature. Product shelf life is up to 7 days.
Nutrition Facts
Serving Size: 100 g
Servings Per Container: 2.3

Amount Per Serving

Calories: 104

Fat calories: 70

% RENI** 4 %

Amount Per Serving
%Daily Value
Total Fat
7.8 g
12 %
Saturated Fat
4.2 g
21 %
Trans Fat
0 g
Cholesterol
8 mg
3 %
Sodium
0 mg
0 %
Potassium
5 mg
0.11 %
Total Carbohydrate
4.9 g
2 %
Dietary Fiber
0 g
0 %
Sugar
4.9 g
Protein
3.5 g
5 %
* Percent Daily Values are based on a 2,000 calorie diet.

**%RENI are based on 2015 RENI PDRI reference adult requirement of 19-29 years old