Live Culture Ricotta di Bufala 200 g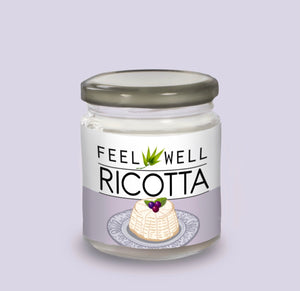 A rich fresh cheese made from cooked buffalo's milk yogurt whey. Its mild flavor and versatility lends it well to spruce up any meal. An excellent source of Protein, naturally-occurring Calcium, and Vitamin A.
WHAT'S IN IT:
— Casein A2 buffalo milk — Yogurt whey
— Live culture
— Bambu salt
NO ADDITIVES. NO REFINED SUGAR
MATCHES WELL WITH:
Almonds, cinnamon, cloves, garlic, lemon, nutmeg, nuts, pepper, pine nuts, spinach, tomatoes & vanilla
ENJOY IT:
-Serve sprinkled with salt, cracked pink peppercorn and drizzled with extra-virgin olive oil.
-Smeared on almond bread or sour dough bread.
-Take your breakfast to another level, top your fried eggs or onto your omelets and sprinkle with chives.
-Combine it with grilled fruit, gluten free granola, and honey for a snack or dessert.
-Toss it with watermelon, avocado, whey better almonds and your favorite greens for a refreshing salad.
-Try it with adlai and scallions, or pesto and tomatoes, or spinach and eggs. You can also eat it for dessert: top with strawberries and honey or banana and chopped nuts.
*Store in 2° - 4°C temperature. Product shelf life is up to 7 days.