Synbiotic Yogurt Drink 240 ml: Mango + Yacon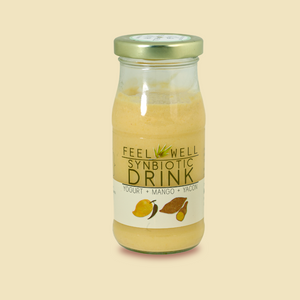 Our delicious yogurt in beverage form, produced by the addition of potassium-rich whey to pure yogurt. An uplifting refreshment packed with PROTEIN, CALCIUM, B VITAMINS, and MINERALS.

BEST FOR: Stomach problems or gut dysbiosis - Take daily for at least 3 weeks and then re-evaluate how you feel. Also great for increasing your probiotics and prebiotics. The alkalinity is a good antidote for acidity.

ENJOY IT: A bottle a day satisfies your thirst and keeps your immune system up. Our yogurt drinks are not only excellent healthy no-added-sugar refreshments, they also taste great!

IMPORTANT NOTE: One of FEEL WELL's key elements is its all-natural goodness. Store in 2° - 4°C temperature. Product shelf life is up to 14 days.
Nutrition Facts
Serving Size: 240 ml
Servings Per Container: 1

Amount Per Serving

Calories: 132

Fat calories: 23

% RENI** 5 %

Amount Per Serving
%Daily Value
Total Fat
2.3 g
4 %
Saturated Fat
1.8 g
9 %
Trans Fat
0 g
Cholesterol
7 mg
2 %
Sodium
18 mg
1 %
Potassium
191 mg
4 %
Total Carbohydrate
22 g
7 %
Dietary Fiber




Sugar
28 g
Protein
5.3 g


* Percent Daily Values are based on a 2,000 calorie diet.

**%RENI are based on 2015 RENI PDRI reference adult requirement of 19-29 years old