Synbiotic Yogurt Drink 240 ml: Mango + Dragon Fruit + Yacon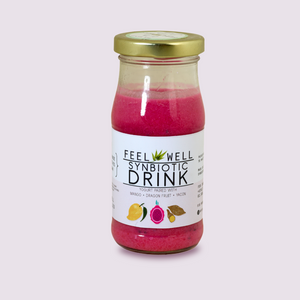 Our delicious yogurt in beverage form, produced by the addition of potassium-rich whey to pure yogurt. An uplifting refreshment packed with PROTEIN, CALCIUM, B VITAMINS, and MINERALS.

NEED TO KNOW: It is also packed with prebiotics from Yacon aka the King of Prebiotics. Prebiotics help probiotics to reach your large intestines, where it matters to take care of your gut flora. Both mango and dragon fruit are also packed with polyphenols aka plant compounds that function as antioxidants and an excellent prebiotic.

BEST FOR: Stomach problems or gut dysbiosis - Take daily for at least 3 weeks and then re-evaluate how you feel. Start with this variant then you may try the Mango +Yacon for the second week. Also great for increasing your probiotics and prebiotics. The alkalinity is a good antidote for acidity.

ENJOY IT: A bottle a day satisfies your thirst and keeps your immune system up. Our yogurt drinks are not only excellent healthy no-added-sugar refreshments, they also taste great!

IMPORTANT NOTE: One of FEEL WELL's key elements is its all-natural goodness. Store in 2° - 4°C temperature. Product shelf life is up to 14 days.
Nutrition Facts
Serving Size: 240 ml
Servings Per Container: 1

Amount Per Serving

Calories: 121

Fat calories: 26

% RENI** 3 %

Amount Per Serving
%Daily Value
Total Fat
2.7 g
4 %
Saturated Fat
10.3 g
52 %
Trans Fat
0 g
Cholesterol
11 mg
4 %
Sodium
25 mg
1 %
Potassium
110 mg
2.3 %
Total Carbohydrate
17 g
6 %
Dietary Fiber
1.6 g
6.4 %
Sugar
26 g
Protein
7 g
10 %
* Percent Daily Values are based on a 2,000 calorie diet.

**%RENI are based on 2015 RENI PDRI reference adult requirement of 19-29 years old