Live Culture Full Fat Yogurt Dip 400 g: Onion & Parsley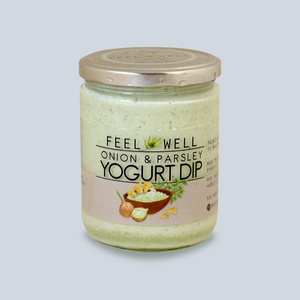 Perk up your Fiber Bites, crackers, breadsticks, and veggie sticks with Feel Well Yogurt Dips! It's creamy, silky-textured, smooth, and rich on the tongue. In addition, it supplies the body with good, clean animal fat which is needed to nourish our cells daily for growth!

WHAT'S IN IT: Our Synbiotic Greek Yogurt with the zing of Onion and Parsley, that add the benefits of vitamins, minerals, and prebiotics.

ENJOY IT: Level up the flavors of asparagus spears, carrot, celery, and cucumber sticks by dipping them in our Yogurt Dips. Great with hard boiled eggs, too.

IMPORTANT NOTE: One of FEEL WELL's key elements is its all-natural goodness. Store in 2° - 4°C temperature. Product shelf life is up to 21 days.
Nutrition Facts
Serving Size: 14.5 g (1 Tbsp)
Servings Per Container: 28

Amount Per Serving

Calories: 21

Fat calories: 17

% RENI ** 1 %

Amount Per Serving
%Daily Value
Total Fat
1.9 g
3 %
Saturated Fat
1.4 g
7%
Trans Fat
0 g
Cholesterol
3 mg
1 %
Sodium
4.8 mg
0 %
Potassium
17.3 mg
0.4 %
Total Carbohydrate
0.25 g
0%
Dietary Fiber
0 g
0%
Sugar
0.13 g
Protein
0.8 g
1 %
* Percent Daily Values are based on a 2,000 calorie diet.
**%RENI are based on 2015 RENI PDRI reference adult requirement of 19-29 years old